Les ordinateurs et émulateurs Oric, et leurs logiciels
Oric computers, emulators and software page
14/06/2011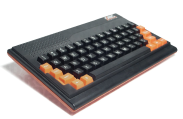 (©)
Les ordinateurs 64 bits, au GHz sont là ...
mais l'Oric est toujours bien vivant !
64-bit GHz computers are here ...
The 1 MHz Oric is proudly facing them !

ROM v1.2x
Une nouvelle ROM pour votre Oric !
L'archive à télécharger comprend le fichier de la nouvelle ROM, les versions adaptées à Euphoric et une documentation intégrant la liste des modifications avec leur code source.

Upgrade your Oric with a brand new ROM !
The archive file includes the new ROM, adapted versions for Euphoric and a documentation of the modifications with their source code.

NOUVEAU !
NEW !

€

ROM v1.22
L'Oric à l'heure de l'Euro ! / Your Oric Euro-compatible !

ajoute le symbole de l'Euro.
adds the Euro symbol.
Note: the UK version keeps the £ symbol
ROM v1.21
améliore la fonction DRAW.
enhances the DRAW function.
ROM v1.2
corrige les bugs de la v1.1 (sauf la fonction DRAW), ajoute de nouvelles fonctionalités et est plus rapide.
corrects ROM v1.1 bugs (but the DRAW function), adds new functions and is faster.

Installation:
Décompressez le fichier archive zip, puis :
- Euphoric: recopiez les fichiers des différentes ROMs dans le répertoire ROMS et mettez à jour le fichier euphoric.ini.
- MESS: sélectionnez la ROM qui vous intéresse, renommez son fichier Basic11b.rom et placez le dans le répertoire Roms/orica. Ignorez l'avertissement de MESS signalant un mauvais checksum.
- Oric/MacOS: utilisez un éditeur de ressources pour remplacer le contenu des ressources ROM dans le programme.
- Oric (un vrai !): sélectionnez le fichier ROM non localisé (sans extension de pays à 2 lettres), puis flashez son contenu dans une EPROM.
Amusez vous bien !

Installation:
Uncompress the zip archive, then:
- Euphoric: copy all ROM files into the ROMS folder and update the content of the euphoric.ini file.
- MESS: select a ROM file, rename it Basic11b.rom and put it in the Roms/orica folder. Ignore the bad checksum warning from MESS.
- Oric/MacOS: use a resource editor to replace the content of ROM resources inside the program.
- Oric (a real one !): select the ROM file with no country localization (without 2-letter name extension) and flash its content in an EPROM.
Enjoy !
Cette archive contient quelques icônes à associer aux fichiers Oric, pour votre émulateur.
Here are some icons for your Oric emulator.

Bibli'Oric
Livres / Books:
Archives Théoric & Micr'Oric: Abandonware-magazines, Oric International.
[ Théoric (1-5), (6-10), (11-15), (16-20), (21-25), (26-30), (31-37) ] [ Micr'Oric (1-5), (6-10) ]

| | |
| --- | --- |
| | Le Monde de l'Oric / Oric World |
Les ordinateurs et émulateurs Oric, et leurs logiciels
Oric computers, emulators and software page